La Macchina Emotiva
experiential process by Loris Petrillo

La Macchina Emotiva
experiential process by Loris Petrillo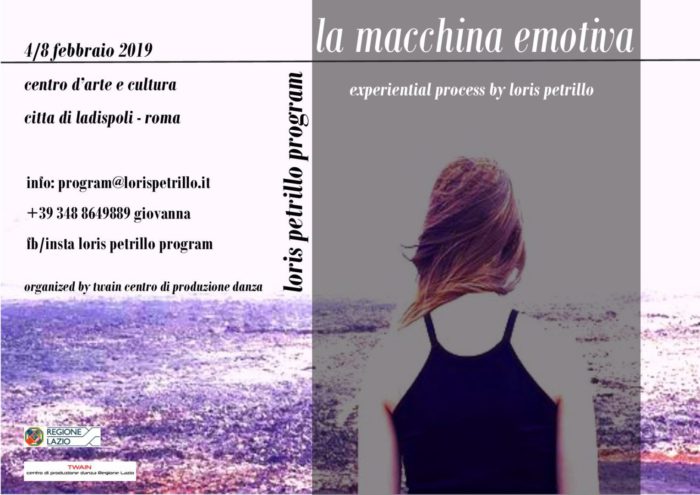 in-depth workshop on the educational pathway for dancers adopted by the choreographer Loris Petrillo
4/8 February 2019
Centro d'Arte e Cultura – City of Ladispoli (Rome)
This educational methodology is based on the idea that the dancers, as human beings and so creatures of the Universe, meet the laws of nature even before dance techniques. It thus suggests an education aimed at analysing body movement in order to make it efficient and necessary, rather than purely aesthetic.
As Loris Petrillo claims, man would potentially have far fewer limits if he did not create them using predetermined styles and techniques.
With his method, L. Petrillo urges dancers to rediscover the infinite and extraordinary possibilities suggested by the Universe, in a way that they can achieve a better performance, by moving away from learning by heart of pre-established and inefficient concepts, which are strictly linked to dance.
It is not about a new technique, not even a new style. It is a more concrete approach that suggests dancers broaden the scope which from time to time they face through different technical situations. As a result, they can get rid of lifeless techniques which restrict and determine their freedom of expression. It is a process of consciousness whereby dancers come to a self-management of their body which, conceived as a "machine", shall be subject to continuing attempts to resolve technical difficulties. Self-experimentation is the only evidence of functionality. If the application of a specific notion leads to an effective result, then that means it can be adopted, because it works. So now the dancers have at their disposal a wide range of notions universally applied that allows them to handle their bodies with greater freedom. Once established these universal rules, the dancers are called upon to get involved as a whole, by engaging their emotional range, a necessary component of the body-machine. That's how the unique and personal character of each of them shape and paint the movement in a way that they give it a sense of wholeness and concreteness with their own essence.
Hence, they create an original dance, which can not be categorized in the overview of styles but is associated with the true nature of each of them on the scene.
8/14 January 2018
Centro d'Arte e Cultura – City of Ladispoli (Rome)
13/20 February 2017
Centro d'Arte e Cultura – City of Ladispoli (Rome)
9/18 January 2017
Centro d'Arte e Cultura – City of Ladispoli (Rome)